It was our first full work week of eating healthy and allergen free and we did great! I didn't have any cravings at all surprisingly. I did eat a little bit of cheese as snacks in the evening and some egg whites this morning (I only have to be gluten free), but otherwise we were all pretty much gluten/dairy/egg free all week. The kids did NOT like the dinners we made, but they tried one bite of everything. They ended up eating homemade chicken nuggets, hot dogs, sandwiches, and lunch meat. All of the recipes below came from my Pinterest board.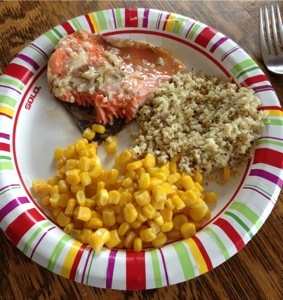 Monday, March 31st
Honey Salmon in Foil – This was just okay. We didn't love it, but we didn't hate it either. The flavor wasn't very strong and I think it should have been broiled instead of baked.
Oven-Roasted Cauliflower Rice – We weren't real impressed with this either. Brandon liked it okay, it was edible for me, Mac ate a few bites, and Will about died when he took one little bite (but that's typical for him). I have a friend who is doing Paleo and her family LOVED this recipe. She said next time she would make 2 heads of cauliflower because 1 just wasn't enough!
Frozen Corn – always delicious.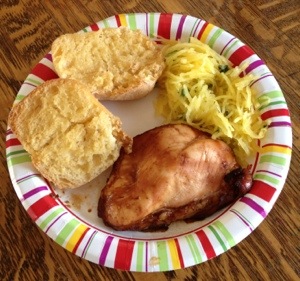 Tuesday, April 1st
Baked Chicken marinated in Dale's Steak Seasoning – Easy and one of our favorites
Herbed Spaghetti Squash – Brandon liked this a lot. I liked it, but the texture threw me off a bit. There was still a little bit of crunch to it so I wonder if maybe I didn't cook it long enough? But the flavor was REALLY good. I'll definitely give this one another try. Neither of the kids liked it though.
Schar Ciabatta Rolls – The Schar family of products are perfect for us: gluten free, dairy free, AND egg free (which is hard to find in a "normal" baked good). These rolls were delicious and I think they'd make a great base for Grandma Norma's grass bread (to be attempted with vegan butter… sorry Gigi).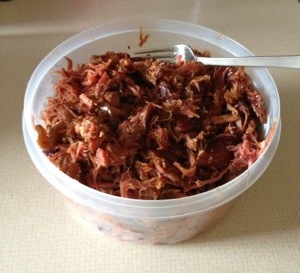 Wednesday, April 2nd
Beyond Easy Pulled Pork – This. was. DELICIOUS. Since I can't have tomatoes, BBQ sauce is pretty much off limits. But the rub on this pork made it so flavorful that I didn't even want sauce! It was great reheated too – didn't dry out or anything. This was easy to make and perfect for our busy Wednesdays when I never have time to cook a real sit down dinner for everyone.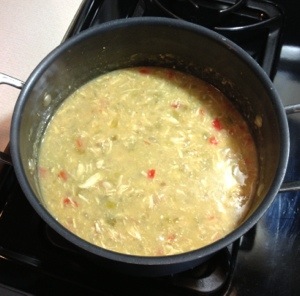 Thursday, April 3rd
Paleo White Chicken Chili – Again, delicious. I left out the jalapeno because I didn't have one and I don't like spicy foods anyway. I also added one can of great northern beans to make it an actual chili. The chicken was just frozen chicken breasts in the crock pot with a little water that I shredded before I put it all in the pot. This was good reheated for lunch the next day as well. I froze a couple servings for next week – should be great for quick go-to meals!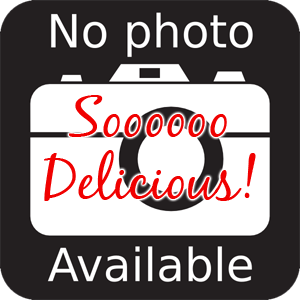 Friday, April 4th 
Grilled Steak and Veggie Kebabs – YUM! We've been looking forward to indulging in steak now that we're pretty much eating all the meat we want without the carbs to slow us down.

We fired up the grill and these soy marinated kebabs really hit the spot. Brandon made some foil packet potatoes with butter, cilantro and salt & pepper as a side dish. I have never liked the texture of potatoes (unless they're fried!) but the flavor on these were really good. He liked them a lot.