I don't like greens. I never have and I don't think I'll ever LOVE them. But I've been trying to be more open minded in our new food lifestyle and surprisingly enough, I've found a couple green things that I love!
First of all, AVOCADO! Where have you been my whole life?!? I think avocado is one of those things I never really tried specifically because it was green. Yep, I was a food racist. But on a recent trip to Idaho, I was coaxed in to trying guacamole. My friend's husband is a chef so how could I refuse at least a taste test! And sure enough, I liked it! Since I can't have salsa any more (tomatoes), I figured I'd try a tomato-free guac. This recipe from Jennifer's Kitchen was great! Easy and yummy – and GREEN.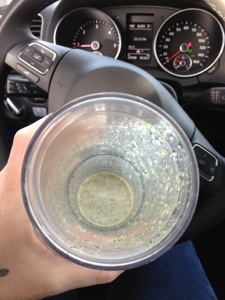 I am a huge fan of the ViSalus shakes. The sweet cream flavor smells like cake and tastes just as good. I'm not a HUGE sweet fan so it's not too over the top – just enough to make things delicious for us fruit and veggie haters. A lot of people even bake with the shake mix which I'd like to try. There are tons of recipes online for great shakes (that I'm sure you can use for any shake mix or protein powder). I usually stick to a standard base of  8 oz unsweetened almond milk and a big handful of kale. YES, kale. I'm telling you, you can't even taste it once you add fruit. This particular shake (or the remnants at least) was frozen strawberries, a little bit of powdered Butter Buds, and about a teaspoon of vanilla extract. It tastes like strawberry shortcake!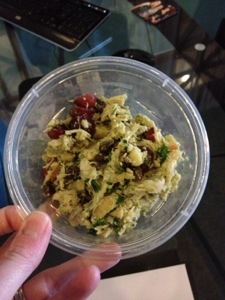 The last but certainly not least of the green foods I ate this past week again embraces the avocado. This Paleo Avocado Chicken Salad was AMAZING. I'm not a huge mayo fan so I don't eat many salads. This was so flavorful. I left out the walnuts because I can't have them and then doubled the grapes because, well, I like grapes. This was great for lunches. I did add a little vegan mayo the 2nd and 3rd day to keep it moist. I will definitely make this again and again for lunches.
The moral of this story is don't judge a food by its color. I have always been guilty of this so I'm really trying to at least TRY everything once. As I tell the kids, you won't know if you like it until you try it!