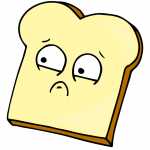 It's been awhile since I've posted or updated, but we've been a bit busy. My three nephews are living with us making our house VERY FULL! Through all the stress and craziness however, we have maintained our diet and are still feeling great. Well, until we cheated.
I was letting the kids slip on the dairy and eggs here and there and we didn't see any adverse effects. This is good since those are harder to cut out when we are traveling or out having fun – you never know what was cooked with butter, milk, eggs, etc. We had 2 birthday parties this weekend and at Saturday's party, I caught Will eating a hamburger bun. I gave him the mom look and told him he shouldn't be eating that, and he said "Well no one told me!" Little stinker – he totally knew. Then at yesterday's party, I let him eat pizza (his FAVORITE) and half of a cupcake. Brandon & I figured we'll let him enjoy and get him back on the diet Monday (isn't that always the day to start over?!?).
Sure enough this morning, he said his stomach was hurting, and he says "Mom, next time don't let me eat so much sugar!" and I said, "It's probably because I let you eat pizza & a cupcake!" He responds with "Well, maybe you shouldn't have let me do that!" Oye…
I had the kids pizza crust yesterday and I'm hurting today. I don't want Will to feel bad, but I'm glad he knows that the way he eats can affect how he feels. I guess now we know! It's not worth the cheat!